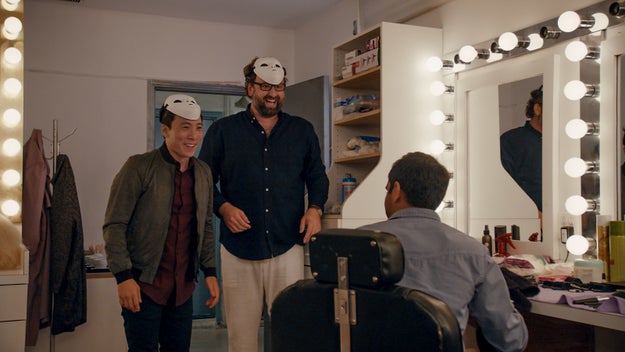 This moment between Brian (Kelvin Yu), Arnold (Eric Wareheim), and Dev (Aziz Ansari) in the closest thing we get to a group scene in Master of None Season 2.
Netflix
Season 2 of Netflix's Master of None isn't just about Dev (Aziz Ansari): Both Arnold (Eric Wareheim) and Denise (Lena Waithe) get their own episodes, and Brian (Kelvin Yu) gets a special segment with his father. There are not, however, any scenes with the whole gang back together, laughing over a meal from whatever restaurant Dev took two hours to find on Eater.
But that wasn't intentional.
According to co-showrunner (and the inspiration for Brian) Alan Yang, it was actually "kind of just how things boiled down." "Before the season, we just have a stack of a hundred ideas and we just try to shape the season out of our favorite ideas that we're most excited about and we have the most passion for, and we feel like we have the most story juice behind," he told BuzzFeed News.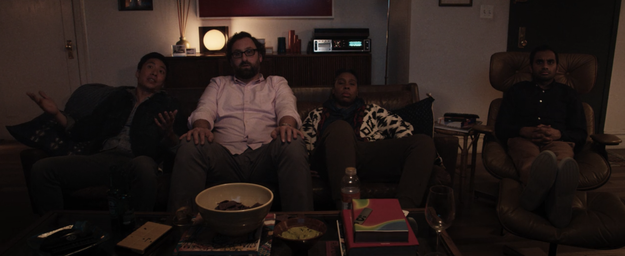 One of the great group scenes from Master of None Season 1.
Netflix
Ansari, Master of None's star and co-showrunner, echoed that sentiment. "We only had 10 episodes and we kind of just write to the stories and bring in the characters as we need them," he said. While that translated to a deeper look at Arnold and Denise in the "Le Nozze" and "Thanksgiving" episodes respectively, there weren't any scenes with all four friends that made the cut.
There aren't any hard feelings though. "Aziz and I are good friends for life," Wareheim said. "We travel the world together, we did a lot of stuff in Italy, and we filmed it, so it's kind of this cool time capsule of us." (Though he agreed that his scenes could use more Paro.)
Waithe too embraced the change and the opportunity to bring attention to Denise. "I think that's what Aziz and Alan always say, they don't want to be boxed in. They're not like, 'Oh, now we have to do a group shot,'" she said. "They don't want to be conventional in any way, so it's like, you kind of want to give the audience, not what they're expecting, but what they don't expect as well."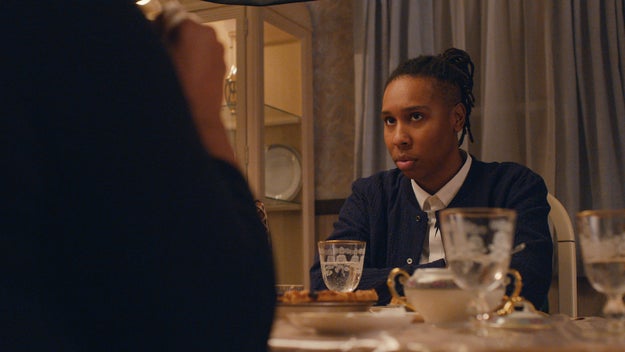 Denise (Waithe) in the "Thanksgiving" episode.
Netflix
Yu, who had the least screen time this season, noted that "what's so special about this show is it's sort of like a cooking show: From episode to episode, you don't know what you're going to get. Like one episode is about gay rights, the next episode is about cupcakes. So they wanted to tackle a whole suite of issues as well as love stories and all that, and it's a crowded world."
BuzzFeed News asked Yang and Yu if they could see Season 3 (if they're renewed) shifting the focus more toward Brian, as opposed to Dev. While Yang could only say "anything is possible and we won't rule anything out," Yu added: "It'd be great. I mean, we need it. We need that kind of thing and I think audiences are hungry for characters and worlds that they're not used to so yeah, who knows!"