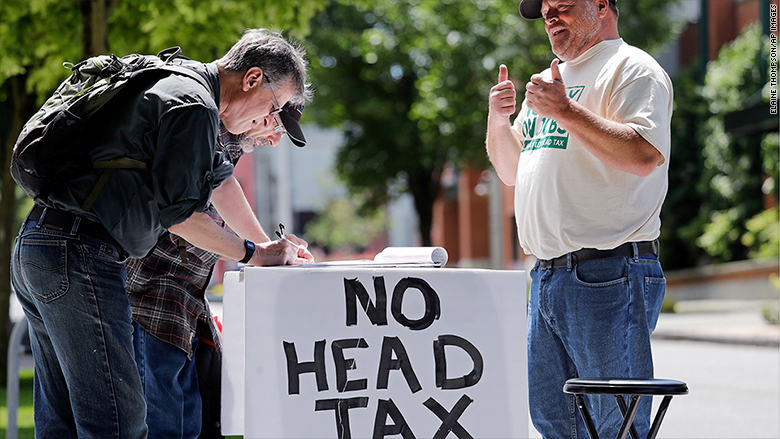 Seattle's controversial new "Amazon tax" on employers passed just a month ago, but it could be repealed this week.
In response to public pressure from No Tax on Jobs, a business-backed referendum campaign, the City Council is expected to vote Tuesday on a measure that will repeal the so-called head tax.
The campaign has already collected more than twice the number of signatures required to let voters decide on the November ballot whether to reject the tax, according to Tim Ceis, a general consultant to the campaign.
But a vote for repeal from the city council would nullify that effort.
Amazon, Starbucks and the Northwest Grocery Association are among the biggest backers of the referendum campaign.
Related: Will these California cities impose a 'Google tax' or an 'Apple tax'?
The tax, which is currently scheduled to take effect in January 2019, amounts to $275 a year per full-time employee of the highest grossing businesses in Seattle. It would raise roughly $47 million a year on average and expire after five years.
The revenue is intended to help fight the city's homelessness and affordable housing problems. Seattle's lack of an income tax narrows the city council's options in terms of how to raise money for public policy efforts.
Organizers of the referendum campaign maintain that the city already spends a lot of money on homelessness with few positive results, Ceis said. Their preference is for Seattle to join with other cities in King County, Washington, to combat the problem and to reform the existing system of how services are provided.
If the head tax is repealed, it's not clear what would replace it, if anything.
In the wake of the passage of the head tax in Seattle, a number of cities in Silicon Valley have been contemplating head taxes of their own to combat traffic congestion and other transportation problems that have arisen as the tech sector dominating the area has grown.
CNNMoney (New York) First published June 12, 2018: 2:30 PM ET